CPR certification is mandatory for all healthcare workers in the United States.
Everyone from the attending physician to medical students must be trained and ready to provide CPR to a cardiac arrest patient should the need arise. In fact, many of those that work outside of the medical field are still required to receive certification. Teachers, coaches, lifeguards, First responders, all count themselves among the legions that have been certified. However, this isn't the case in Guatemala.
CPR and advanced cardiac life support ACLS, is not standard training at any of the 44 public hospitals in Guatemala. In fact, the only CPR/ACLS certified training available in Guatemala is via a for-profit company five hours away from San Marcos. The price of certification is $350, not including travel and lodging expenses. This price tag is just too high for many doctors, nurses, volunteer First Responders and health professionals with minimal resources.
San Marcos National Hospital had not taken the initiative towards providing CPR training for its medical personnel. All that changed when in March of 2018, the ever-enthusiastic Chief of Internal Medicine Residency, Doctor Romeo Tereta, decided to give the medical staff and First Responder Fire Fighters in the San Marcos area the training that they both yearned for and needed. Dr. Tereta asked OSSA for help in obtaining training equipment and he would do the training.
Paying a high cost in Guatemala City for the certification of the medical staff was never going to be feasible. The steps that OSSA has taken to bring CPR training to the staff at the San Marcos National Hospital have been strategic, effective, and affordable.
To start the initiative to train medical staff, Dr. Jose Balderas, an OSSA sponsored CPR instructor orthopedic colleague came from Guadalajara, Mexico to teach the very first CPR course for instructors and providers in July of 2018.
Since then the program has progressed largely in thanks to the diligent work of Doctor Tereta. Doctor Tereta became CPR certified in 2019 in Guatemala and has been teaching doctors, nurses, students, EMTs, and firefighters ever since.
Effective, competent, internationally recognized CPR training of healthcare professionals is essential. Equally important are up to date CPR manikins and supplies. OSSA has made training possible through the donation of 6 adult manikins, 6 infant manikins, 4 child manikins, Advanced life support and procedure-specific specialty manikins, training manuals and videos, CPR masks, 6 training defibrillators, and a video projection equipment.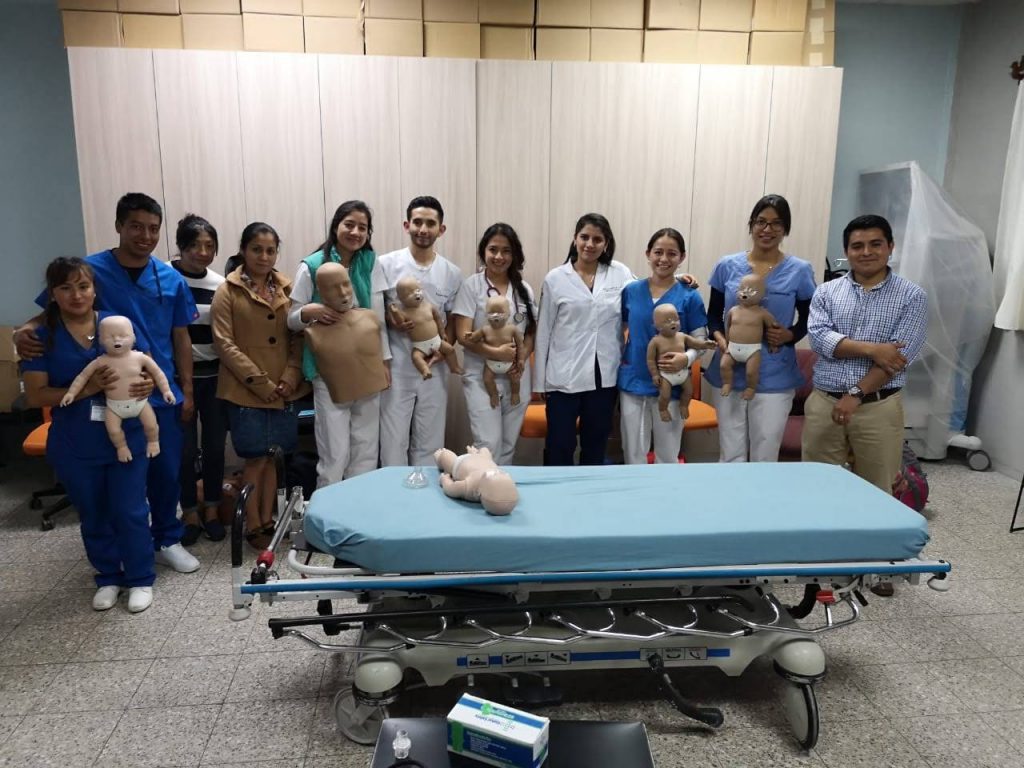 Since training kicked off, OSSA has been able to train over 250 doctors, nurses, students, and Firefighter First responders
Just a little over a year ago, there was only a handful of CPR trained hospital employees. Now there are hundreds. Great strides have been made in CPR training — next up we are beginning implementation of code blue training and simulation of a coordinated emergency response team. Over the next 2 years OSSA's goal is to have 100% of all hospital personnel and San Marcos First Responders firefighters CPR trained. OSSA, with support from Hospital Administrators and the dedicated, visionary health care providers within San Marcos have made this once far-fetched goal feasible. Through your continued support we can reach our training goals and support bringing life-changing care to the1.2 million people in the department of San Marcos!